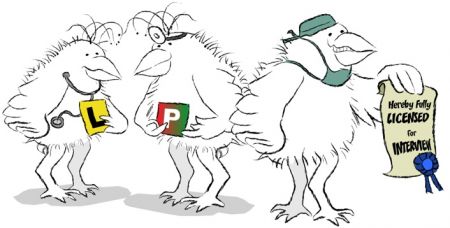 The Impressive Interviews Medical Master Class is designed to assist medical candidates preparing for a specialty selection interview. They are suitable for prospective surgical and physician trainees.
Please note - Not suited for ENT candidates
 The program focuses on two key areas of preparation:
Mindset, structure, knowledge language and culture of individual specialties
Practical application - answering questions likely to be asked at interview in individual specialties, videoing and providing responses and  providing constructive feedback.
Each group is limited to 6 participants, is 4 hours and each participant will be provided with:
A set of reference notes  
A copy of the book 'Impressive interviews, Your pocket - sized personal interview trainer'
Light refreshments
 The fee for the Medical Master Class is $797.00, early bird offer $747.00
 For details of dates times and locations see events section click here
For more information or to make a booking contact Deborah Barit email doctors@impressiveinterviews.com.au or mobile 0412 007 682
Interview Skills Training and in Coaching Sydney
Many Training institutes might promise you the best Interview Training in Sydney. But how many of them can let their results speak for them? We believe in our actions. We have been providing interview coaching in Sydney since 1999 and maintained our time-tested techniques of interview skills training to provide exceptional results again and again.
Are you looking for the edge in this competitive employment market?
Do you know how to effectively market yourself when applying for jobs or when facing job interviews?
Impressive Interviews and its coaching format can help you
stand out in the crowd.
Our Individual or Group job application and interview skills training gives you the ability and confidence to successfully match your skills and experience to employer needs. But don't take our word for it – see what our Clients have to say!
We also offer a range of Specialised Services to businesses, from editing tender documentation to preparing duty statements and selection criteria.
Contact us now for job interview coaching – and take the first step towards achieving your goals!
Do you have a question about changing jobs or your career? Ask us!
Interested in a consultation? Call us on (02) 9331  1853 to find out more.
Get the FREE ebook
"The Seven Deadly Sins to Avoid at Interviews" now!
---
Upcoming Events
Click here for full events listing